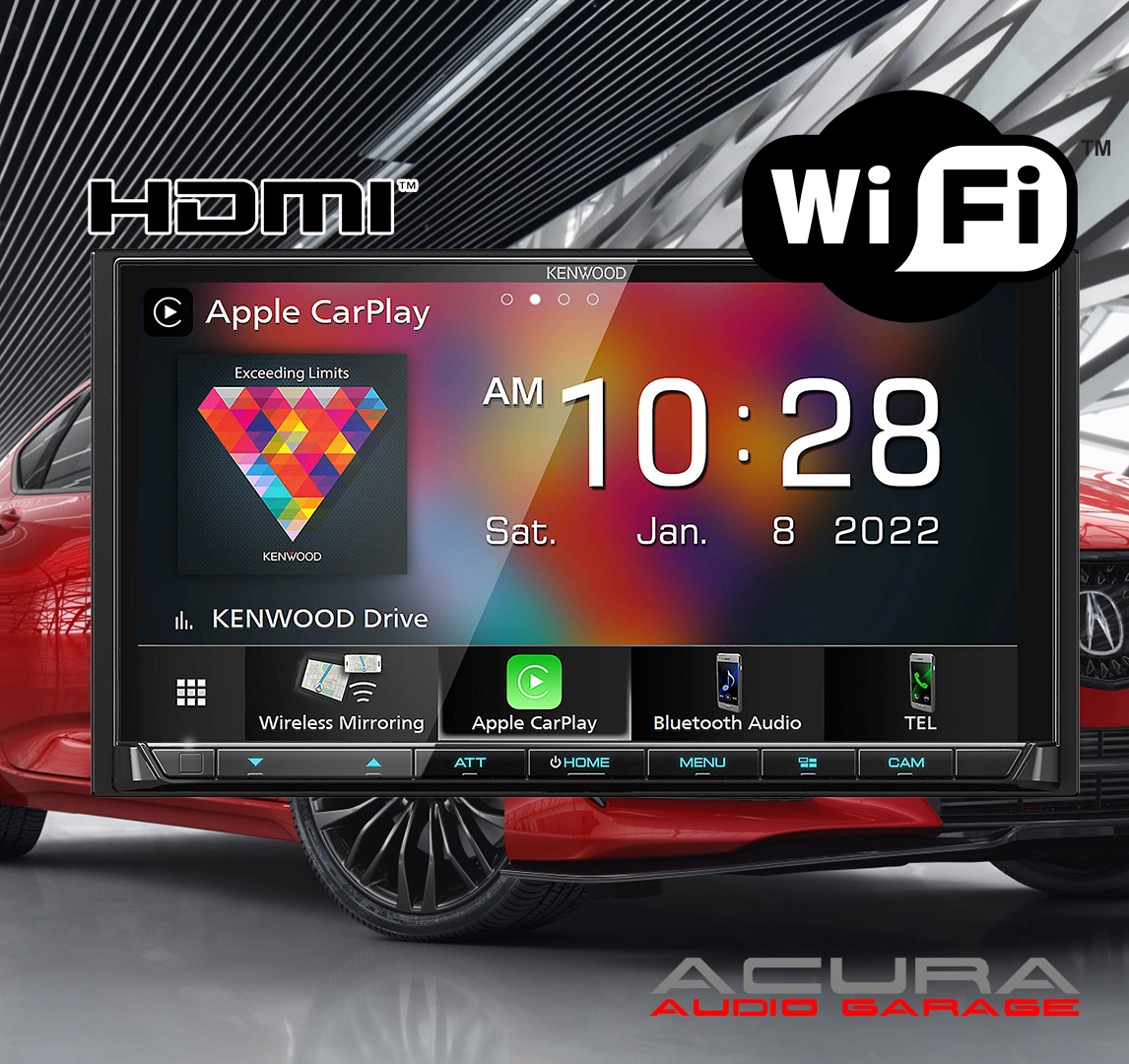 NOTICE: Please select your year and model for installation specific information and what factory features will continue working.
Radio Summary:
If you are looking for the best available head unit for your Acura this Kenwood receiver is the winner. Kenwood also makes higher tier units that might have additional features but this radio has all the essential features you could want in a new radio. This radio has an 7″ HD capacitive touchscreen and tactile buttons to help you control your entertainment. This radio is loaded with wired and wireless Apple CarPlay/ Android Auto, Bluetooth Audio Streaming and Calling along with wireless Android Mirroring. This radio also has SiriusXM compatibility, an HDMI port, multiple camera inputs and three pairs of 4volt pre amp outputs to power your factory amplifier or aftermarket amplifiers. The only features missing from this radio are a CD/DVD player and built in GPS Guidance. Installing this stereo requires you to run a new microphone wire to the visor or other desired location. The USB port is on the back of the radio so you will need to run the included USB extension or flush mount a USB adapter somewhere on your dash. Our plug and play radio kit removes the need for any wiring so all you have to do is plug everything in. Our radio kit also allows you keep your factory steering wheel controls, amplifier, speakers and factory navigation in most Acura's.
Who should buy this radio:
This radio is a great choice for anyone looking to upgrade the head unit in their Acura. The Kenwood operating system is intuitive so if you know how to use a smartphone you can easily use this radio. This radio also has all the settings you could want to adjust the sound output to your liking. There are tons of menus to find all kind of cool adjustments but if you are just looking for the basics this radio is simple and easy to control. The icons are large and selecting your desired source is easy. The HD screen makes choosing apps or selecting radio stations enjoyable and electronics inside this head unit provide a solid audio foundation for integrating with the factory system in your Acura or powering an aftermarket system.
Who should look for something else:
If you are looking for built in GPS Guidance that doesn't require a phone connection or for the ability to play CD/DVDS this is radio is not a good choice. If you like to keep all your media on a USB drive this radio is also not a good choice. The menus for traversing folders and finding the exact song you may want to listen to on your USB drive is annoying. If you want to watch videos of a USB its okay but not for audio.
About the Kenwood Brand:
Kenwood is often compared to Pioneer and is referred to as 'your grandpas radio' by enthusiast when it comes to aftermarket electronics. But that statement while silly just showcases how long Kenwood has been around delivering quality aftermarket audio components. The Kenwood power delivery, audio quality and sleek operating system makes their head units an easy recommendation for enthusiast and professionals looking for a new radio. Kenwood offers a one year warranty on head units so you can have peace of mind that your investment is protected.